Keeping your kitchen has never been easier 
Clean and neat: With a storage box design, the peeled fruit and vegetable skins can be stored in the storage box, and a single piece will not fall on the ground. Say goodbye to the mess and mess problem after peeling with a traditional paring knife.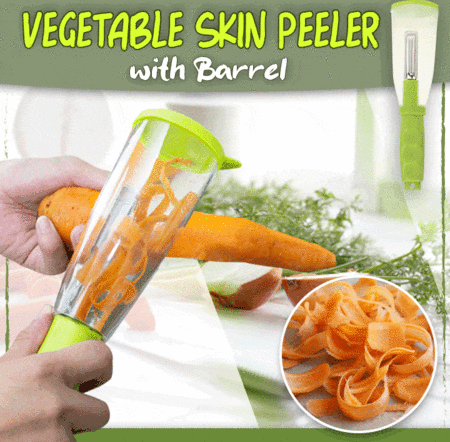 Fashion design: comfortable and durable. Made of 420 stainless steel, durable, non-slip handle design, transparent storage box , you can see the pleasure of cutting the skin.

Objects of use: potatoes, cucumbers, sweet potatoes, carrots, papaya, yams, avocados, zucchini, asparagus, tomatoes, eggplant and other homemade fruits and vegetables. It is a practical kitchen tool and a good helper in the kitchen.

HIGH QUALITY MATERIAL - The peelers are constructed with premium quality ABS handle and stainless steel blade , allowing them to handle bumps and curves with ease without clogging issues.

Ergonomic Design: The handle of the kitchen peelers is designed for a comfortable, non-slip grip, even when wet.   Multifunctional: standard vegetable peeler for easy peeling of calluses and fruits
Easy to Carry - The slim figure for easy portability.
Purpose: peeler to cut vegetables into uniform strips ideal for salads. So that your family can enjoy fruit anytime, anywhere. Great gifts for family, friends and coworkers
TYPES OF PEELERS®:

Both the handle and blades are dishwasher safe .
Multifunctional peeler - Straight peeler - used to peel the skin of fruits and vegetables.
Large peeler: good for shredding cabbage, slicing vegetables.
Julienne peeler: it will julienne vegetables, such as carrots.